Automate Kajabi Digital Tax VAT Handling
In only 3 steps, you can be compliant with EU VAT rules by automating digital tax handling on Kajabi. Vatstack makes quarterly reporting fast, easy and, most importantly, accurate.
Grace Teo
Published August 17, 2020
Selling online courses comes with a great deal of workload. Using the all-in-one platform, Kajabi helps in building a site to sell courses to your community.
There is only one problem. Kajabi doesn't add sales tax natively into your pricing. The sales tax referred to here is what the European Union (EU) calls value added tax (VAT). Your offer has to consider a percentage of tax at the point of sale.
Since the average VAT rate in the EU is around 21%, you may want to add an additional 20% to your price to account for VAT. If your digital course sells for $100, the final price would be a suggested $120. You would then forward the collected VAT amount to your EU tax office of choice (the Mini One-Stop Shop, or MOSS) when tax filing is due.
Where are your customers from?
This is where it gets complicated. The EU requires you to report the collected VAT according to the location of your customer. While you may add 20% to the price, you cannot simply report and forward that amount.
Each EU country has its own VAT rate. Hopefully, your business is doing great and you have customers from each of the 27 EU countries. You handle each transaction individually, verify your customer's location, keep a record of the location evidence, and report the applicable VAT rate accordingly.
Also, you must be updated with any regulatory changes when it comes to VAT.
Automated EU VAT report
We know that you would rather be taking care of your business and servicing your customers. Don't bother going through the different rates from each EU country and worry if the rates are accurate or not. Vatstack produces an automated report at the end of every quarter. Be assured that the rates applied to your transactions are always accurate and compliant.
You just forward it to your tax consultant, accountant or file it with your MOSS if you are doing this yourself.
The report can be downloaded as a CSV file and every figure in it can be copy-and-pasted directly to the respective fields in your filing.
Easy integration with Vatstack
No coding required for integration. Yes, you read it right. It only takes 3 steps to get started. These instructions assume that you have configured Kajabi to pay you through Stripe.
1. Collect billing address
Set Kajabi to collect the billing address with each sale to establish which EU VAT rate is applicable based on the location of your customer.
In your Kajabi dashboard, navigate to Products > Offers and click on the pencil icon of your offer to edit it.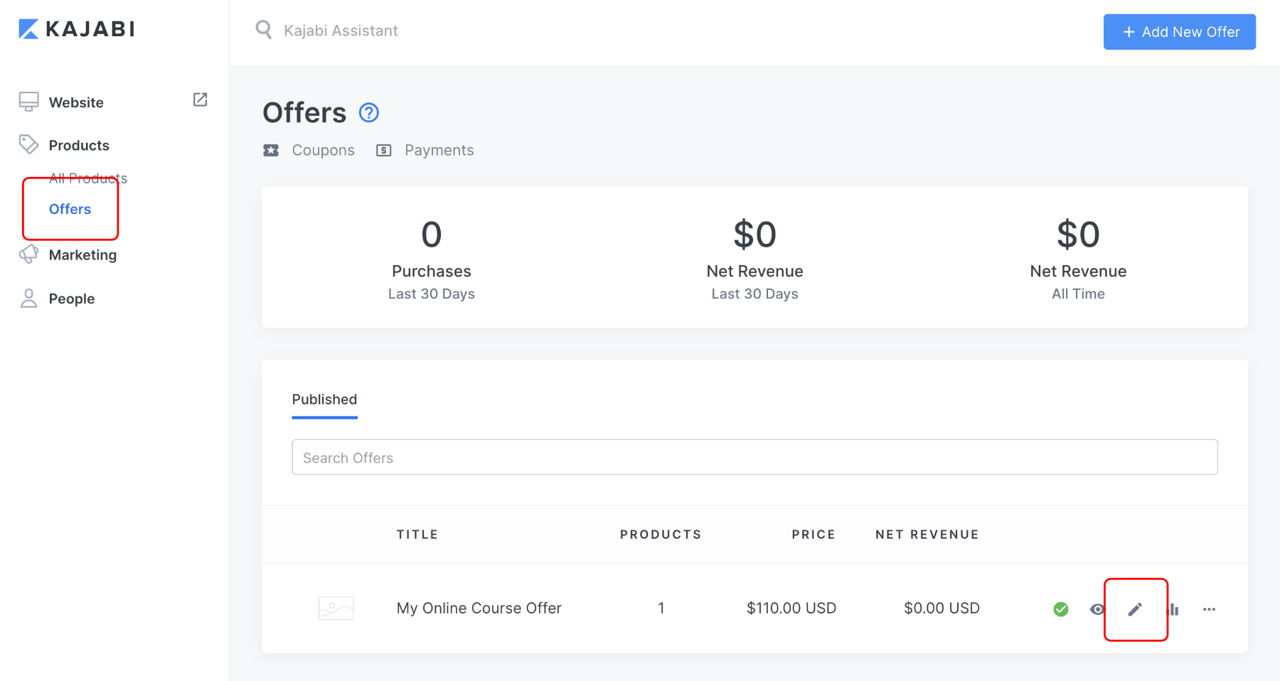 Then go to Edit Checkout. In the settings window, click Extra Contact Info and activate Collect Address. Click Save before exiting the window.

2. Create an account with Vatstack
Once you have verified your email address, add a payment method and subscribe to a plan. Every subscription starts with a 14 days free trial before you get billed.
3. Connect Vatstack to Stripe
In your Vatstack dashboard, go to Integrations and click the button to Connect with Stripe. You will be prompted to authorize Vatstack to receive important events occurring in your Stripe account.

That's it. You can now watch the magic happen. New invoices generated in Stripe are now synchronized with Vatstack and it will automatically generate compliant VAT reports for you.
You will be reminded whenever quarterly reporting is due by email.